Shared by: Brooke James, Woodloch Staff
I am the proud new mom of a beautiful three month old baby girl! It is truly the best thing that has ever happened to my life! However, with all of the joys of having a new baby, comes the sleepless nights and long days of no rest!! My husband and I had not had a minute to ourselves since our little munchkin has come into our lives…. Until we went on our date night!!
I never thought I would appreciate a date so much in my life!! My brother had gotten us a gift certificate to Tree , which is the restaurant at The Lodge at Woodloch, Poconos destination spa. We had such a great dinner and a much needed bottle of wine but most of all we had a relaxing experience!!! The cuisine was inspired, international and health focused. I loved the whole meal, but my entrée stood out, a sesame encrusted wild Alaskan salmon over wakame. My date enjoyed an Indian curry and tofu dish. From amuse bouche to dessert, we were impressed.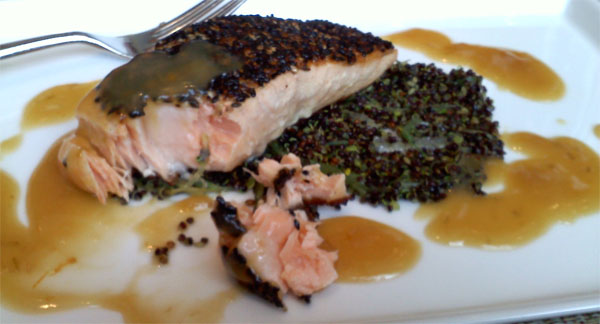 It was a very peaceful atmosphere that really helped us to unwind and enjoy each other's company (the pianist also helped…)! If you're looking for luxury and fine dining in the Poconos, Tree is a great option and a great way to take a break from your daily routine.