Shared by: Matt Butler, Woodloch Staff
So what's new in the world of
Woodloch Meetings
? Well, we recently welcomed back a past group who hasn't been here since January of 08... The company was Frito-Lay and we were very proud to have this division of the company return after a long hiatus...
The planner of our Frito-Lay group, and his family, are frequent Woodloch vacationers that have come consistently every year for our New Year's Eve Package. While vacationing at Woodloch this past New Years, the planner was reminded of the last corporate function they held at Woodloch and all the fun they had doing different teambuilding events (and of course all the work they accomplished while here as well)...


I met with the planner while he was here on vacation and we started to formulate ideas and tried to recreate a similar package for their corporate function to what they had in 2008. After gathering the not-so-fun details of the event, it was on to the teambuilding! We discussed the options they had done in the past, but this time they wanted to try something a little different. The planners looked through our teambuilding brochures and saw something that caught their eye - "The Benevolent Bike Build." This Woodloch original event is really starting to take off!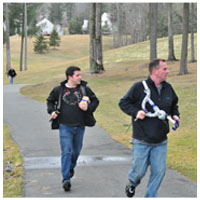 The premise of the bike build is that we hide different pieces of a real (childrens) bicycles all around our property. We then give each team a GPS unit and the coordinates to where the items are hidden. Once all items have been gathered the team assembles a bicycle with no instructions. Each team must use excellent communication in order to properly assemble the bikes. Also, the team to assemble their bike correctly and in the timeliest fashion is awarded with gold medals and a great prize! Frito-Lay had an absolute blast during the event, as most adults become kids during a Woodloch teambuilding activity. It was also a very productive activity for the team by incorporating problem solving, physical activity, mechanics and communication. A win-win all around.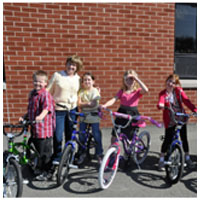 The event is titled the "Benevolent" bike build for good reason; the finished bikes are donated to charity – whichever association the company wants to benefit. Frito-Lay deferred to Woodloch for the charity of choice, and we selected "Communities that Care (CTC)." CTC supports an after school enrichment program that provides to under privileged children. The program offers a safe environment for children between the times they are dismissed from school and the time their parents arrive home from work.
The bikes that Frito-Lay built will be used by the children during their recreation time at the CTC (you can never have too many brand new bikes at any location). Many of the children who partake in these programs may never have the chance to ride a brand new bicycle, and we love to be able to grant that opportunity! Our most recent Frito-Lay group chose this event to achieve their goals of strengthening their team while having fun, as well as doing a great service in our local community. Woodloch and the Communities That Care organization are very fortunate to have kind, socially responsible groups like Frito-Lay… a big thank you to Frito-Lay!
Check out the video: